Title of paper under discussion
Absolute Pitch and Planum Temporale
Authors
Julian Paul Keenan, Ven Thangaraj, Andrea R. Halpern and Gottfried Schlaug
Journal
NeuroImage, 14(6):1402-8, January 2002
Link to original paper (open access)
Overview
The planum temporale (PT), a triangular area just behind the primary auditory cortex on each of the two temporal lobes , is one of the most asymmetric regions of the brain, up to ten times bigger in the left than in the right hemisphere. This leftward asymmetry is more pronounced in males and in right-handers – and especially in musicians with perfect (absolute) pitch.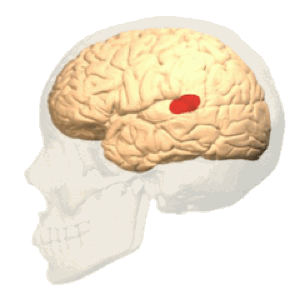 Taking place in Boston, Massachusetts in 2001, this study set out to investigate 1) whether the increased leftward asymmetry seen in musicians with absolute pitch (AP) was due to a larger than normal left PT or a smaller then normal right PT and 2) whether early exposure to music influenced the development of this asymmetry.
To this end, three groups were given brain scans to measure the sizes of their right and left PTs: "musicians with absolute pitch (AP)", "musicians without AP" and "non-musicians". (Both groups of musicians, those with and those without AP, had received early exposure to music training). As we will see, the "musicians with AP" had a near-normal sized left PT but a smaller than average right PT, suggesting that their PT leftward asymmetry is due to "pruning" of the right PT rather than expansion of the left PT. Meanwhile the brains of the "musicians without AP", who had received a similar amount of early training as their AP colleagues, showed no such "pruning", suggesting that although the development of AP may still depend on early musical training its associated leftward PT asymmetry has already been genetically determined.
Method
Three groups of right-handed participants – 27 musicians with AP, 22 musicians without AP and 22 non-musicians – had their brains scanned using magnetic resonance imaging. Brain scans are taken 'slice by slice' and expert neuroanatomists were asked to look at the series of slice scans of each participant, recognise the extent of the brain area in question – the planum temporale – and so measure its area (on both sides of the brain).
Results
The planum temporale leftward asymmetry value was similar in "non-musicians" and "musicians without Absolute Pitch", but significantly greater in "musicians with Absolute Pitch".
This was found to be due to a smaller-sized right (rather than a larger-sized left) planum temporale in "musicians with AP".
The figure immediately below shows a comparison between the left planum temporale (grey) and right planum temporale (red) in a "non-musician" (top) and in a "musician with Absolute Pitch" (bottom) – note the much bigger asymmetry in the "musician with Absolute Pitch":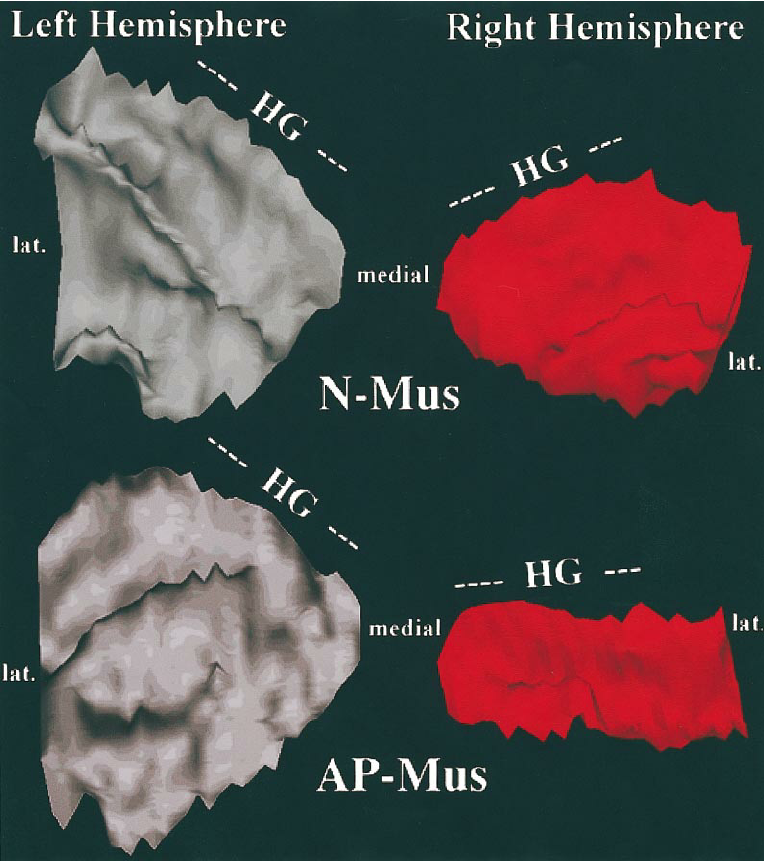 Furthermore, a correlation analysis established that the size of the PT asymmetry did not depend on the age at which the musician had begun musical training.
Discussion
Although exposure to early musical training has been shown in many previous studies to be an important factor in the development of AP, this study – which included a comparison between two groups of musicians with similar exposure to early training (one group with AP and one without AP) and a group of non-musicians without any such early training – found that "this exposure in itself was not a determinant of an exaggerated leftward asymmetry". Put another way, the authors conclude that "this finding suggests that in addition to the early commencement of musical training, the increased leftward asymmetry is a determinant for the manifestation of AP".
A further way in which this study advanced our understanding of the brains of musicians with Absolute Pitch was in the nature of the exaggerated PT leftward asymmetry, namely that it was down to a smaller right, not a larger left, PT. the authors suggest that this may be due to "a pruning of the right PT early in development" though acknowledge this needs further research.
To conclude in the words of the authors:
"In summary, it was found that there was a greater leftward asymmetry in the PT of AP musicians compared to non-AP musicians and nonmusicians. The asymmetry appeared to be the result of a smaller right hemisphere PT rather than an increase in the left PT or a distribution of the two. These data suggest that early developmental pruning in the right PT may create an anatomical dominance of the left PT. This in turn might create a functional dominance of the left PT over the right PT, which might be necessary for the acquisition and/or manifestation of absolute pitch. This anatomical difference is likely due to factors other than early musical training or music exposure and it might indicate that young children with an increased leftward PT asymmetry might develop AP if they have an early music exposure."
Coda
Arnold Schoenberg – Pierrot Lunaire
Jane Manning with Nash Ensemble (cond. – Simon Rattle)